Awards Ceremony and Gratitude
I woke up yesterday morning and found a lovely Award in my comments, from the wonderful Mary at Now Entering Momville. Thanks so much, Mary, you seriously made my day.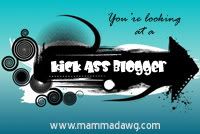 The cool thing about Awards is you get to pass 'em on.
Here are the rules:*Pick 5 Bloggers that you feel are Kick Ass Bloggers* Let em' know in your post or via email, twitter or blog comments that they've received an award* Share the love and link back to both the person who awarded you and back to Kick A** Blogger Award* Hop on back to the Kick Ass Blogger Club HQ to sign Mr. Linky then pass it on (which you can also get to on the above link.
Here we go:
1. Leah @ Daily Piglet, for being seriously thoughtful as well as freaking hilarious.
2. Maggie @ Maggie, Dammit for jumping back in with both feet, and fearless kickassery.
3. Meghan @Velveteen Mind for being an incredible community member and builder.
4. Heather @ Meet The Spohrs for her darling spawn, strength, and humor.
5. Danielle @ Captain Porkchops for making milk come out my nose.
Thanks again, Mary. Now for the rest of the gratitude:
Real life and cyber-friends have been so incredibly awesome while my mom prepared for her surgery last week and while we wait for a diagnosis for my dear MIL, who's struggling with some serious health stuff as well. Your support has meant the world to me during a time my life's been a little uncertain. So thanks.
The GOOD NEWS: My mom's surgery on Friday was like Buttah, and the cancer didn't spread into her lymphnodes. So radiation for 6 weeks, and hopefully a different, more fun chapter for her. She's already up and about, cleaning her office and putting stuff on Craigslist. Sigh. Mom: SIT DOWN!
The song I keep hearing this week is "What I Got", by Sublime. It seems very apropos, except for the part about the mom "Hitting the bottle and going right to the rock". My mom's not really about that. But the gratitude part: absolutely.
I swear every time I get in the car it come on. Has that ever happened to you, a song or musical theme that seems to recur right when you need it the most? Tell me. It's happened often enough in my life that I'm wondering if it's "a thing".
Again, thanks so much, you all rock.
xoxo, L